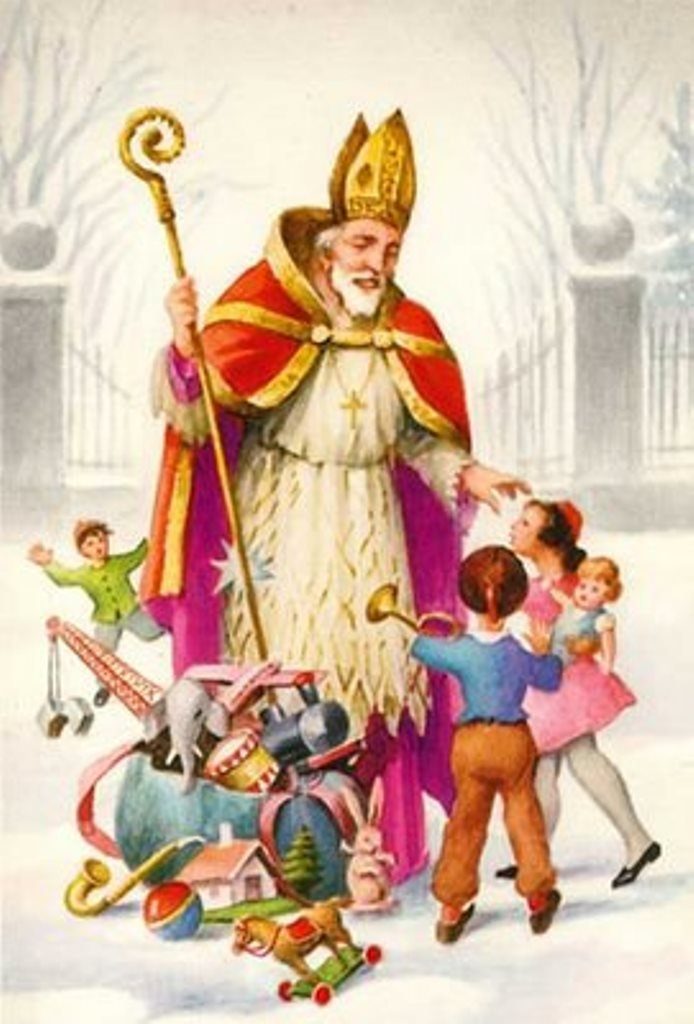 6 grudnia cały Kościół wspomina św. Mikołaja – biskupa.
Dla większości z nas był to pierwszy święty, z którym zawarliśmy bliższą znajomość. Od wczesnego dzieciństwa darzyliśmy go wielką sympatią, bo przecież przynosił nam prezenty. Tak naprawdę zupełnie go wtedy jeszcze nie znaliśmy. A czy dziś wiemy, kim był Święty Mikołaj? Być może trochę usprawiedliwia nas fakt, że zachowało się niewiele pewnych informacji na jego temat.
Wyproszony u Boga
Około roku 270 w Licji, w miejscowości Patras, żyło zamożne chrześcijańskie małżeństwo, które bardzo cierpiało z powodu braku potomka. Oboje małżonkowie prosili w modlitwach Boga o tę łaskę i zostali wysłuchani. Święty Mikołaj okazał się wielkim dobroczyńcą ludzi i człowiekiem głębokiej wiary, gorliwie wypełniającym powinności wobec Boga.
Rodzice osierocili Mikołaja, gdy był jeszcze młodzieńcem. Zmarli podczas zarazy, zostawiając synowi pokaźny majątek. Mikołaj mógł więc do końca swoich dni wieść dostatnie, beztroskie życie. Wrażliwy na ludzką biedę, chciał dzielić się bogactwem z osobami cierpiącymi niedostatek. Za swoją hojność nie oczekiwał podziękowań, nie pragnął rozgłosu. Przeciwnie, starał się, aby jego miłosierne uczynki pozostawały otoczone tajemnicą. Często po kryjomu podrzucał biednym rodzinom podarki i cieszył się, patrząc na radość obdarowywanych ludzi.
Mikołaj chciał jeszcze bardziej zbliżyć się do Boga. Doszedł do wniosku, że najlepiej służyć Mu będzie za klasztornym murem. Po pielgrzymce do Ziemi Świętej dołączył do zakonników w Patras. Wkrótce wewnętrzny głos nakazał mu wrócić między ludzi. Opuścił klasztor i swe rodzinne strony, by trafić do dużego miasta licyjskiego – Myry.
Biskup Myry
Był to czas, gdy chrześcijanie w Myrze przeżywali żałobę po stracie biskupa. Niełatwo było wybrać godnego następcę. Pewnej nocy jednemu z obradujących dostojników kościelnych Bóg polecił we śnie obrać na wakujący urząd człowieka, który jako pierwszy przyjdzie rano do kościoła. Człowiekiem tym okazał się nieznany nikomu Mikołaj. Niektórzy bardzo się zdziwili, ale uszanowano wolę Bożą. Sam Mikołaj, gdy mu o wszystkim powiedziano, wzbraniał się przed objęciem wysokiej funkcji, nie czuł się na siłach przyjąć biskupich obowiązków. Po długich namowach wyraził jednak zgodę uznając, że dzieje się to z Bożego wyroku.
Biskupią posługę pełnił Mikołaj ofiarnie i z całkowitym oddaniem. Niósł Słowo Boże nie tylko członkom wspólnoty chrześcijańskiej. Starał się krzewić Je wśród pogan.
Tę owocną pracę przerwały na pewien czas edykty cesarza rzymskiego Dioklecjana wymierzone przeciw chrześcijanom. Wyznawców Jezusa uczyniono obywatelami drugiej kategorii i zabroniono im sprawowania obrzędów religijnych. Rozpoczęły się prześladowania chrześcijan. Po latach spędzonych w lochu Mikołaj wyszedł na wolność.
Biskup Mikołaj dożył sędziwego wieku. W chwili śmierci miał ponad 70 lat (większość ludzi umierała wtedy przed 30. rokiem życia). Nie wiemy dokładnie, kiedy zmarł: zgon nastąpił między 345 a 352 r. Tradycja dokładnie przechowała tylko dzień i miesiąc tego zdarzenia – szósty grudnia. Podobno w chwili śmierci Świętego ukazały się anioły i rozbrzmiały chóry anielskie.
Mikołaj został uroczyście pochowany w Myrze.
Z Myry do Bari
Wiele lat później miasto uległo zagładzie, gdy w 1087 r. opanowali je Turcy. Relikwie Świętego zdołano jednak w porę wywieźć do włoskiego miasta Bari, które jest dzisiaj światowym ośrodkiem kultu św. Mikołaja. Do tego portowego miasta w południowo-wschodniej części Włoch przybywają tysiące turystów i pielgrzymów. Dla wielu największym przeżyciem jest modlitwa przy relikwiach św. Mikołaja.
Biskup z Myry jest patronem Grecji i Rusi. Pod jego opiekę oddały się Moskwa i Nowogród, ale także Antwerpia i Berlin. Za swego patrona wybrali go: bednarze, cukiernicy, kupcy, młynarze, piekarze, piwowarzy, a także notariusze i sędziowie. Jako biskup miasta portowego, stał się też patronem marynarzy, rybaków i flisaków. Wzywano św. Mikołaja na pomoc w czasie burz na morzu, jak również w czasie chorób i do obrony przed złodziejami. Opieki u niego szukali jeńcy i więźniowie, a szczególnie ofiary niesprawiedliwych wyroków sądowych. Uznawano go wreszcie za patrona dzieci, studentów, panien, pielgrzymów i podróżnych. Zaliczany był do grona Czternastu Świętych Wspomożycieli.
Święty zawsze aktualny
Od epoki, w której żył św. Mikołaj, dzieli nas siedemnaście stuleci. To wystarczająco długi czas, by wiele wydarzeń z życia Świętego uległo zapomnieniu. Dziś wiedza o nim jest mieszaniną faktów historycznych i legend. Trudno jednak oprzeć się wrażeniu, że nawet w fantastycznie brzmiących opowieściach o św. Mikołaju tkwi ziarno prawdy.
Święty Mikołaj nieustannie przekazuje nam jedną, zawsze aktualną ideę. Przypomina o potrzebie ofiarności wobec bliźniego. Pięknie ujął to papież Jan Paweł II mówiąc, że św. Mikołaj jest "patronem daru człowieka dla człowieka".