Rusza tegoroczna edycja Ekstremalnej Drogi Krzyżowej (EDK).
Nawet 100 tysięcy osób w 20 krajach weźmie w tym roku udział w EDK. Nocą, w milczeniu i samotności lub niewielkich grupach każdy z nich przejdzie pieszo jedną z kilkuset tras liczących minimum 40 km.
Pierwszy raz wyruszymy na trasę ze Świebodzic.
Rozpoczynamy 16 marca br. o godz. 20:00 mszą św. w intencji uczestników EDK, która odbędzie się w parafii św. Mikołaja. Wyjdziemy na trasę św. Mikołaja.
W Ekstremalnej Drodze Krzyżowej chodzi o wyjście poza strefę komfortu. Nocna wędrówka w trudnych warunkach, fizyczny i psychiczny wysiłek na granicy wytrzymałości, a czasem już poza nią, dają pątnikom doświadczenie przekroczenia siebie, swoich ograniczeń i przyzwyczajeń, a to prowadzi ich do prawdziwej, głębokiej zmiany. Pomaga im otworzyć się na Boga i drugiego człowieka.
Ekstremalna Droga Krzyżowa czerpie z duchowości św. Franciszka – dużo ducha przy pełnym zaangażowaniu ciała. Odbywa się zawsze w Wielkim Poście.
Podczas drogi krzyżowej obowiązuje zasada skupienia i milczenia. Uczestnicy mają ze sobą aplikację z opisem trasy i śladem GPS, ale z orientacją w terenie muszą sobie radzić sami, sami też troszczą się o swoje bezpieczeństwo. Po drodze zatrzymują się przy wyznaczonych stacjach drogi krzyżowej, gdzie czytają specjalnie dla nich przygotowane rozważania lub słuchają ich, korzystając z urządzeń mobilnych. Wędrówka kończy się zazwyczaj rano dotarciem do punktu docelowego. Z reguły jest to sanktuarium lub kościół.
– Stacjami drogi krzyżowej na trasie św. Mikołaja, na którą wyjdziemy będą m.in. wszystkie kościoły w naszym mieście, ruiny kościoła św. Anny, kościół św. Jadwigi w Mokrzeszowie, mauzoleum rodziny Hochbergów koło zamku Książ i krzyże pokutne – mówi Rysiek Stochła, lider rejonu Świebodzice.
Ekstremalna Droga Krzyżowa to aktualnie jeden z najszybciej rozwijających się ruchów religijnych na świecie. Korzysta z nowoczesnych technologii, a jednocześnie stanowi powrót do korzeni chrześcijaństwa. Pierwsi chrześcijanie, podobnie jak ludzie w XXI wieku, nie mieli czasu w ciągu dnia, dlatego odprawiali mszę świętą w nocy. I dla nich również praktykowanie chrześcijaństwa było inwestycją w nowe życie.
Pomysł na EDK zrodził się w roku 2009 w środowisku duszpasterstwa akademickiego prowadzonego w Krakowie przez ks. Jacka Stryczka. Był odpowiedzią na poszukiwanie dróg pobożności na miarę XXI wieku i sposobem na połączenie Ewangelii i nowoczesności przez ludzi, którzy chcą łączyć życie religijne z rodzinnym i biznesowym. Rozwojowi EDK sprzyjał ks. Kardynał Stanisław Dziwisz, a uczestnikiem i promotorem wydarzenia został również nuncjusz apostolski w Polsce, abp Celestino Migliore. Projekt wspiera także obecny arcybiskup metropolita krakowski Marek Jędraszewski.
Obserwujcie nasz profil na Facebooku – EDK Świebodzice.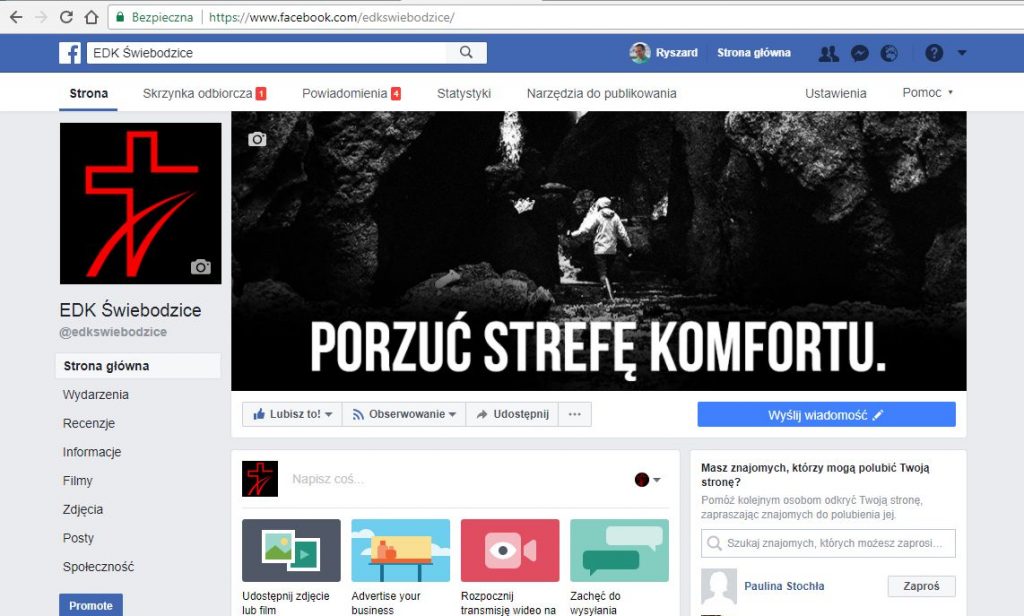 Tam znajdziecie aktualne informacje. Warto zajrzeć na You Tube i pooglądać filmy z poprzednich edycji EDK. Wiele z nich to prawdziwa inspiracja.
Więcej informacji, trasy oraz szczegóły dotyczące zapisów na www.edk.org.pl